T H E · S I T E S · T O · S E E
SCRiTCH's Stuff
Offshore Sites
---
Copyright 2004 Scritch Productions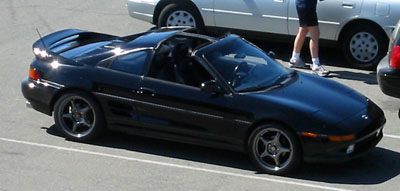 My MR2
I've wanted to own and drive an MR2 since 1990 or so, when the first sleek models arrived. Eventually, I became financially stable enough to buy one. My first and favorite car. A black 92 MR2 turbo! Rock on. Won't get to much into it here, but I totally dig it.
How much do I love my car?
Any mods?
Just a few. JDM ceramic CT-20b turbo, Apex-i SuperAFC, boost increase, FCD, throttle body inlet, fidanza flywheel, clutchmaster stage 1 clutch, Greddy IC, Tokiko Illumina struts, and eibach pro kit springs. ok that's a lot more than i realized at first.

Oh, I DO have a license plate cover that says iNSaNiTy LiES DEeP WiTHiN aLL MiNDs. heh. That makes it go faster. Just kidding.
Damn doesn't that thing get you into trouble?!
No... of course not. really.
[ scritch looks around nervously ]