I know what you're thinking... "Fartman?! What the hell?!"

Back in the day, when I had much more time to dabble in things of pure interest, I made animated birthday "cards" for my friends. This was one of them. My old friend Lawrence used to have a sort of infamy when it came to gaseous releasals, so I did this for his birthday one year. Keep in mind that I was a sophomore in high school at the time, and crudeness was an art. That is also why the animation is in such low resolution. I used Autodesk Animator Pro, which is a DOS program, and basically ran in 320x480 resolution. Wow... oldschool!

You can get a zipped AVI or a zipped FLI (playable by the Quicktime 3.0 player) instead of trying to piece together what is happening from the stills below...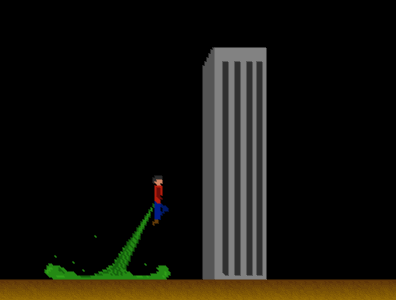 Able to leap tall buildings in a single... fart?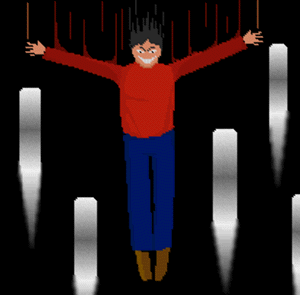 falling down on the other side of the building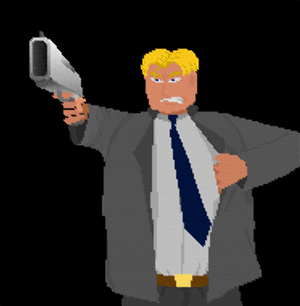 Utoh.. the evil antagonist trying to destroy the superhuman
that IS Fartman!
| | |
| --- | --- |
| | The power of Fartman's gas catches the enemy's bullets and propels them back to their owner. |


Oouch! Game over for the bad guy!
These stills don't do justice to this at all. If you want to see it in full motion video, download the video files above!