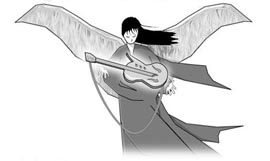 As usual, click the picture for a bigger version.

This picture was drawn for a flyer announcing a show some of my friends' band was doing a few months back. Sadly, ENDA (formerly known as Vicious Sweet) has broken up and are no longer playing as of a few months ago.

I like this one a lot because it's simple yet elegant... At least I think so. It was drawn with Aldus FreeHand 8.0, and modified a lot in PhotoShop 5.0.